Room prices: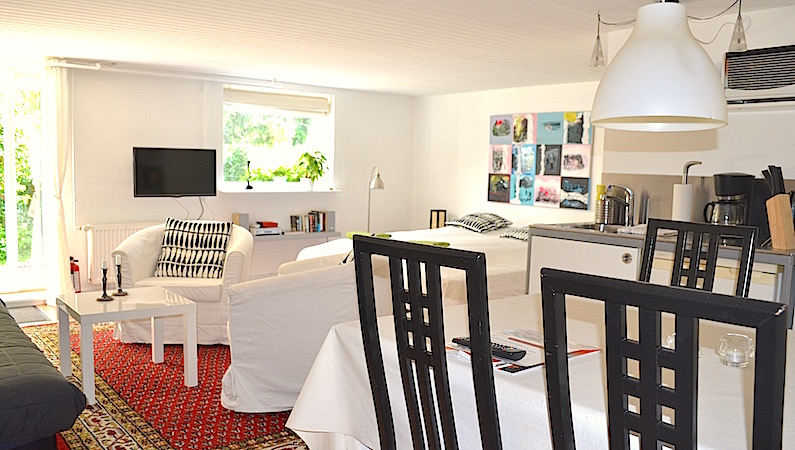 Room V1 - size 32 sq. m. costs 80 EUR/per night/1-2pers.
Room V2 - size 23 sq. m. costs 67 EUR/per night/1-2 pers.
Extra bed costs 30 EUR/per night.
Children (age 3-12 years) costs 17 EUR/per night.
Children below the age of 3 are free of charge
Baby Cot is free of charge, but you have to bring the bed linen for the baby yourself.
All rooms have their own entrance and their own bathroom. V1 has a tea-kitchen and V2 has a small kitchen. Both rooms have a private south-facing outdoor terrace with garden furniture and an outdoor grill.
The rooms V1 + V2 can function as a two-bedroom-apartment size 55 sq. m. with private terrace and private entrance. There are thus two bathrooms and two kitchens.
V1 + V2 - size 55 sq. m. costs 148 EUR/per night/1-4 pers.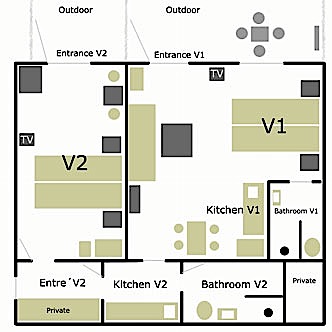 All prices are without breakfast but includes expenses for electricity, water, heat, WIFI and an end-cleaning of the room.
Booking of the rooms for longer periods have a weekly cleaning, change of bed linens and towels included in the price.
Special offers can be arranged with longtime booking of the rooms – Contact us for an offer.